Okinawa Prefecture
Okinawa 沖縄 is the largest of the Ryukyu 琉球 islands with an area of 2,264.83 sq. km located off the south coast of Japan. It consists of ten prefectural cities which are Naha, Ishikawa, Gushikawa, Ginowan, Hirara, Ishigaki, Urasoe, Nago, Itoman and Okinawa. The prefectural tree, flower, bird and fish are the Ryukyu Matsu, Deego, Noguchi Gera and Gurukun respectively. Its population as of December 2014 was 1,301,462. Naha city alone has a population of 315,954. The prefectural flag which was adopted by the prefecture on 13th October 1972, symbolizes "Ocean", "Peace" and "Development".
Flag Of Okinawa
As early as the 12th or 13th Century, Okinawa was developing independently as part of the cultural and economic bloc centred on Kyushu and Kansai. Around the middle of the 14th Century, trade with Ming Dynasty China began, and the island of Okinawa became a unified dynasty during the 15th Century. Although it was defeated in 1609 by Satsuma Clan (now of Kagoshima Prefecture), the dynasty system was preserved until modern times. With the establishment of Japan as a modern nation, Okinawa Prefecture was established in 1879.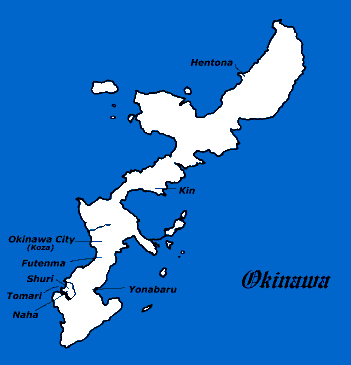 In April 1945 the prefecture became the last battleground of the Pacific War and experienced terrible misery, with 110,071 Japanese soldiers & Okinawan citizens and 12,520 American troops being killed or missing in action. It was no surprise that the huge loss of human life at the Battle of Okinawa led to the dropping of the atomic bombs on Japan just six weeks later.
In September 1951, the San Francisco Peace Treaty was signed and Okinawa's administrative authority was severed from Japan and the prefecture's Chief Executive was to be appointed by the United States. In November 1969, a joint Japan-U.S. statement declared that the Okinawan people's long cherished desire to be returned to Japan would become a reality in 1972. The reversion agreement was signed by the Japanese and U.S. governments in June 1971, and Okinawa was finally returned to Japan on 15th May 1972, at which time, it became Okinawa prefecture.