Prefectural Fish ~ Gurukun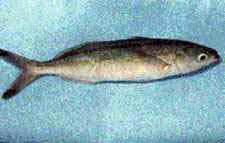 The Gurukun (Caesio Diagramma) as it is known to the locals, is a familiar fish to all Okinawan people. The islanders catch it by driving it into nets, an original way of fishing found in Okinawa.
The fish is so popular that it can be found being served in most peoples homes either as it is, or as a raw material for Kamaboko (fish cake).